Nanny: Cracked but Not Broken
by Sadie Brown
posted 6/29/2018


​Conventionally beautiful is not how I would describe Ella Mae Sweat. I would say that her beauty is timeless. She is a woman of great renown, with countless sufferings, an unwavering faith, and unending love for everyone around her. Her smile is broad, though laugh lines pull down on her skin. Kind eyes hide beneath heavy eyelids and deep crow's feet. Black hair, which curls in wisps, has silvered into light brown. Her voice is low and rough, yet comforting and gentle. She speaks of lovely things, such as Christ's love and her family's beauty. Though soothing sentences slip through her teeth, reality taints each ending. She is a rational woman with a sharp mind and quick wit. All these wonderful things become her, and I simply call her Nanny, my great-grandmother.

Ella Mae entered the world on a cool, September day in the year 1927. Each year she has experienced makes her the woman she is today. She married a young man that her family disapproved of. Love overcame her, and she answered love's call to run. She and Calvin were married, and happiness seemed to be never ending until he chugged the first beer. A runaway marriage had turned from a dream into a nightmare as the drinking became an addiction. He drank so much, he would sweat pure alcohol and the taste would rest on her lips. Though addiction ate away at Calvin, Ella Mae continued to love him through thick and thin.

Children were brought into and lost in their world. Miscarriages were an unfortunate normalcy and pain struck my Nanny's heart with each stolen child. Finally, she brought home four healthy babies, one to two years apart. Then came the fifth, so small the doctor sent him home in a shoe box and told Ella Mae to plan a funeral. She refused to have another soul, so innocent, die on her. She fed her child with an ear dropper and raised him to be a healthy young man. Tragedies were present but were fogged up by love.

Years passed, and Ella Mae was all the more wise and grateful with each passing day. Though the people changed through the years her long-time home remained the same. A small brick house among many on a small, curving road in a tiny town outside of Sandersville, Georgia. Nothing was near except the train depot. The passenger cars passing by whistled into her house. Ella Mae could walk to the train station, just a few minutes up the road from her small neighborhood is where she would bring lemonades and sandwiches to the workers. Her heart was open as she offered up her home to passing railroad workers, giving them a place to sleep and warm food in their stomachs. She cared for all as if they were her own. Four children that she didn't bear lived alongside her own children, as siblings. There was a constant hum of activity in the home.

Misfortune attacked Ella Mae at curious times. She sat in her living room, awaiting the ding of the kitchen timer when a knock at the door flooded the room. Blue lights illuminated the outside of the home. Her stomach tightened, and she answered the door. There was the Sherriff, standing on her front porch. His face was blank and seamless, until she got to his eyes, which read of heartbreak. The news that stuttered off his tongue pulled the strings of Ella Mae'sheart to the ground. Her nephew, who had been living with her for a long while, had been shot and killed. This would not be the last funeral Ella attended.

Though chaos struck, life carried on. My Nanny got a puppy named Cupid, a black, longhaired dog that waddled when he walked. She enjoyed his presence when she returned home from her work at the fabric factory. Calvin, her husband, had quit drinking and turned to God. Born again Christians was a title my great grandparents claimed. Their children had all grown up and started families of their own, with one joining the military and fighting in Vietnam. Happily, Ella Mae was making dinner when life played on her a cruel joke. He was out in the garden, tending to the herbs that Ella Mae would need to finish the meal when her husband, the only man she had ever loved, died of a massive heart attack. Ella Mae buried her husband in the fall.

My Nanny prepared herself for her own passing, when depression consumed her as she longed to be with her dear Calvin once again. Depression's grip didn't stay for long because her motherly duties were called upon when her oldest son, Calvin Jr. was back from the war. Her son was diagnosed with schizophrenia, a disease that entangles the mind into different realities. Ella Mae was then given the purpose of caring for her mentally ill son. The police were at her home often. Calvin Jr. called the White House and told them he was going to bomb it, which is a federal offense, so investigators came to their home. The mental health explanation was sufficient but was given little sympathy. He was in jail a lot. The Sherriff and Ella Mae were on a first name basis due to all of Calvin Jr.'s infractions. He grew weed in the shed and became violent. My Nanny had become trapped by her son's mind. Her only distraction from his manic lifestyle was sweet Cupid. She and her dog were inseparable.

Months had dragged on and Calvin Jr. was flipping between mental episodes. Ella Mae had become so accustomed to them that they no longer phased her in the slightest sense. She carried on about her daily housekeeping tasks. One night, when it was quiet and hot, Calvin Jr. got out of bed. Ella Mae sat up and listened. She strained her ears and she heard him dial each one of his siblings on the phone. It was so late at night that she was confused as to why Calvin Jr. needed everyone to know that he loved them. The phone calls stopped and Calvin Jr.'s footsteps drew close to her door.

"I love you, Mama."

His large body hit the floor with a loud thud that rattled the home. She called out to him with no reply, then she began to cry. A heart attack had claimed another member of her world. She knew now why he had called his brothers and sisters. She knew now why he was walking around at night and calling out to her. This funeral was bleak and dry. She buried her first-born son in the winter.

Though Cupid was comforting, she confided in her oldest daughter and her son-in-law. They were all so close to one another that Mary Anne and John were at her house every day. John had become more than an in-law; she thought of him as her son. They helped nurse Ella Mae's depression away and all seemed well. Not long after, her son-in-law was diagnosed with pneumonia. John was placed in the hospital. The virus attacked his lungs and was trying to claim his life. John stopped breathing, and Ella Mae and Mary Anne urged the doctors to do something. They assured the women that everything was fine. However, pneumonia had filled John's lungs with fluids and poison that collapsed his airway. John was buried, with Mary Anne and Ella Mae at his side, that summer.

Years later, grandchildren and great-grandchildren entered her family portrait. Her home flooded with a buzz of joy and laughter. Little ones ran through the home and loud voices echoed from outside. The kids played with Cupid. The family would constantly get together and eat and catch up with one another. The huge Sweat Clan had grown, and Ella Mae felt so blessed. Then, her eldest daughter got the news. Stage three breast cancer was eating at her.

Once again, Ella Mae opened her doors and took in her child. My grandmother, her youngest daughter, saw to her sister and her mother. The three women became closer than ever before. They attended doctor's appointments together, watched movies, painted toenails, and bonded. Doctor's appointments became their lives, and it was after the chemo stopped working that they all cried together. Ella Mae watched her daughter decline from glowing health to a walking corpse. Ella Mae was sitting with Kathie, her youngest daughter, when they heard Mary Anne cry out in pain. The pain of cancer rang throughout the home and suddenly it stopped. Agony ceased, and Mary Anne was gone. Ella Mae buried her eldest daughter in the summer.

Fall came and went. Many Christmases and barbeques were held, and love endured. Cupid passed away a few months after Mary Anne died, but the home was not broken, only cracked. My Nanny has kept her faith in God and continued to live each day to the fullest. She still bakes cakes, has gatherings, and tells stories from the past. I visit her regularly, listening to everything she has to say, laughing along with her at days gone by. She looks at me with sincerity.

"Live your life like you're going to leave this world tomorrow and treat everyone like it's the last day you'll ever see them."

---
Sadie Brown was raised in Warthen, Georgia, a small town outside of Sandersville that doesn't even have a stop light. She is currently a sophomore at Georgia College and State University in Milledgeville, Georgia. She is a double major in history and English, with a concentration in creative writing. Her dream is to one day publish a novel, but until then she will be furthering her education and hopefully teaching others the joy of writing and learning.
---

COPYRIGHT © 2018 Beyond the Magnolias

​​​​​​
Powered by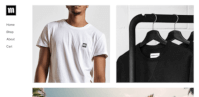 Create your own unique website with customizable templates.